Travel Loot
12 Brands for Shopping (and Living!) Sustainably
Even if you're not traveling much (or at all), we hope you're doing a bit of lounging around, moving around, and making stuff. Fathom contributor and self-proclaimed product junkie Madeline Weinfield found new products to add a little excitement to your everyday activities.
Going on two years of pandemic living: There's no avoiding it, only getting through it (and occasionally buying things to help you feel better about it). New technologies, materials, and methods of doing business yield a lot of exciting, new, sustainable, and responsibly-made accessories for your life right now.
Lounging
We love LA-based MATE's commitment to using organic cotton and sustainable materials. A new clothing recycling program turns previously loved MATE pieces into products. It's hard to imagine wanting to send anything back, however, as the buttery fabrics in the organic cotton sleep sets (from $48) and organic cotton bike shorts ($48) make ideal loungewear.
If you're skeptical about linen in your bed, Piglet will change your mind. This British brand, which began out of the founder's mother's garden shed, has gained an international following thanks to their seriously soft, effortlessly chic linen bedding. Their ethos is one of simple design, high-quality materials, and products made to withstand a lifetime of sleeping. The Basic Bedding Bundle (from $317) includes a duvet cover, fitted sheet, and two standard pillow cases, and may just convince you to say farewell to the all-American concept of a flat sheet.
Rough Linen produces timeless linen pieces in Marin County, California, using sustainable European flax. The resulting fabric has naturally long fibers that help regulate body temperature. St. Bart's Robes are sold in pairs ($288 for the set), so you and your housemate can pretend you live at spa together.
Slowtide's towels are both luxuriously fluffy and also very quick to dry — a rare combination — but the company specializes in high-functioning towels made from sustainable materials. Simple designs, like the Clive and the Luxe, ($40) show off the ingenious drying loop.
The bath sheets by Onsen ($80) are larger and more indulgent. Woven from American-grown Supima cotton, these sheets fall somewhere between a towel and blanket in size and channel Japanese minimalism. Order online and they'll come in their own storage bags with matching hand towels and face cloths.
Zooming
It's not all about the bed, of course; everyone's still on a fair amount of Zooms. Époque Évolution has sustainability and simplicity at the forefront of their made-to-travel designs. The Edit Shirt ($148) is simple and professional (with puffed sleeved and oversized cuffs) and the Hero Trousers ($168) are comfortable and polished.
With winter in full swing, we're looking for knitwear that will keep us cozy at our desks and stylish when we go out. Babaà, the Spanish brand with heritage designs and lovingly tended flocks of sheep, is a worthy investment. These thick, old-school quality pieces evoke a time when clothes were designed and constructed to last. One hundred percent naturally dyed, each sweater is sized to fit most (i.e. you buy the piece as is, no small/medium/large). For me, it's a toss-up between the raw, natural tone and slightly shrunken fit of jumper no. 29 and the rich coziness of cardigan no.17. No sizes, no creative product names, just exceptional quality and ethical production.
Good JuJu Herbal is a small-batch, all-natural skin care line founded by a woman who spent years battling eczema worsened by allergens found in common chemicals (think sulfates, fragrance oils, and parabens). The result is a beautiful line of products that don't just claim to be, but actually are 100 percent natural. The Essential Salve ($10) is great for dry skin; Restorative Face Oil ($70) has anti-aging properties; the Dead Sea Clay Mask ($12) arrives as a powder that you mix with water. Products are packed in fully recyclable boxes and containers, and there's even an option to order products label-free to further reduce waste. Good JuJu is dedicated to providing a living way for their employees, responsibly sourcing products that are safe for sensitive skin, expectant mothers, and babies.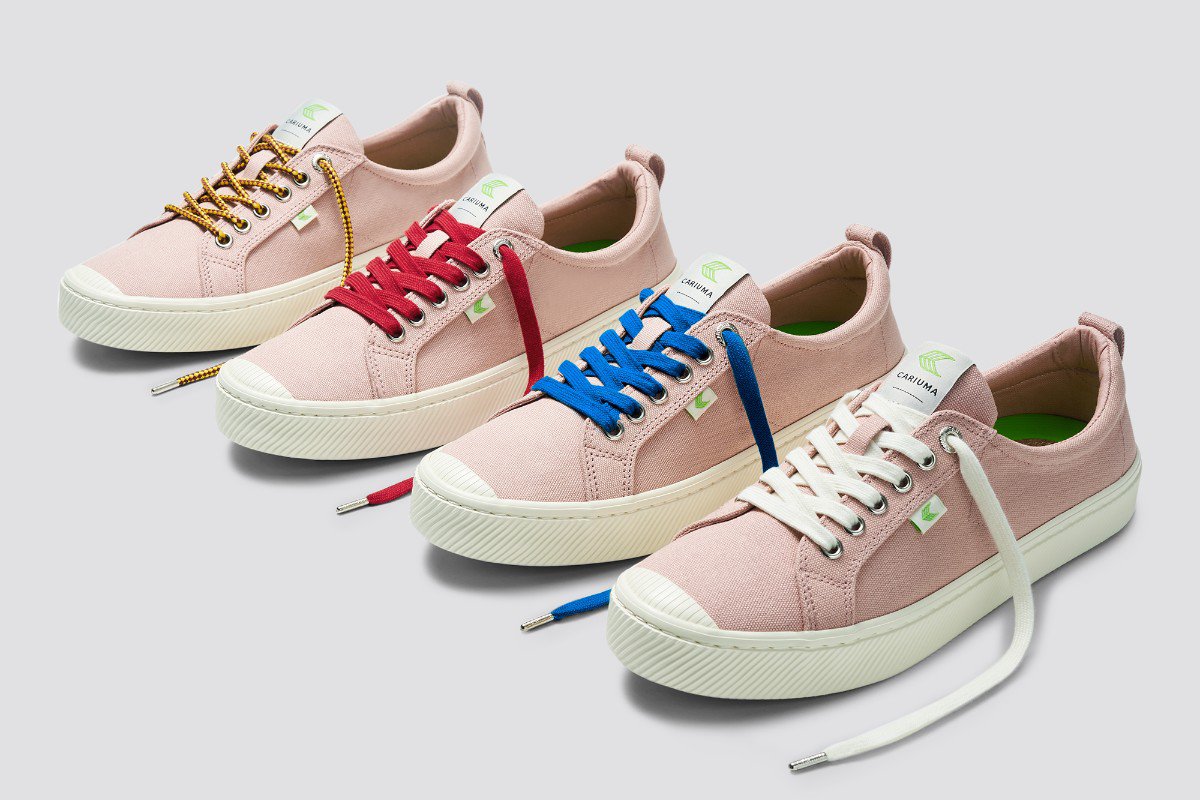 Moving
When you do venture outside, slip into something grounding. Derby shoes ($79) from fair-trade company Nisolo are three times lighter than the average shoe. They're also sturdy and flexible, waterproof, and designed to pack flat in a suitcase. Nisolo is committed to providing all employees a living wage and reducing the carbon footprint to zero.
Cariuma's consciously made, comfort-focused classic canvas sneakers ($79) are made for walking — and walking and walking. Consider these your best friends for daily sanity walks while working from home. Constructed from natural rubber, organic cotton, and recycled plastic, they arrive on your doorstep in a recycled (and recyclable) box. For every pair of shoes purchased, Cariuma plants a pair of trees in the Brazilian rainforest as part of their own reforestation program in the founder's home country. Their collaboration with Pantone draws color inspiration from the vibrant hues from the four corners of the globe.
There's nothing quite as freeing as a road trip with a pair of Woodzee shades. Quality construction at wallet-friendly prices (starting from $40), the company builds frames with recycled and reclaimed wood (including recycled whiskey and wine barrels), skateboards, and sustainable materials like bamboo and plant-based plastic.
Making
Flotsam + Fork curates beautiful, simple, and rare-to-the-U.S.-market European finds for wardrobe and home. Consider them your go-to for retail armchair travel. They have a wide variety of pieces to elevate and enhance the everyday, with a special focus on tools and accessories for the kitchen. The immaculately simple and classic half apron ($20) is made by a century-old German manufacturer, and the cotton and linen dish towels ($22) come from an Austrian company that weaves towels using traditional checkered patterns from the country's northern Mühlviertel region. A tour of their website is a cross-continental feast for the eyes.
Shop Some More
16 Beauty Products to Transport You Around the World
Candles, Cookies, Accessories, Empowerment
A Beauty Editor's 15 Best New Discoveries
Everything on Fathom is independently selected by our editors. If you shop through a link on our website, we may earn a commission.